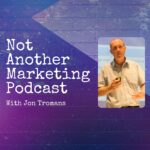 Welcome to Not Another Marketing Podcast where I'm talking to Corey Northcutt, founder of boutique SEO agency, Northcutt dot com. We're talking technical SEO and Google's new ranking factors called Core Web Vitals.
Episode 91
Technical SEO can be a bit 'technical' especially now that Google have said they will start using Core Web Vitals signals as ranking factors from May 2021.
Web vitals can confuse even seasoned web developers we're going to try and explain things in normal speak!
Joining me is Corey Northcutt a 17-year SEO veteran who's currently running the show at boutique SEO agency, Northcutt.
Can I quickly mention is that NAMP is totally ad free and I'd love it if you could give the pod a quick shout on social media and subscribe via your podcast app