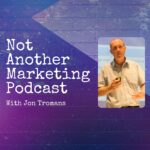 Welcome to Not Another Marketing Podcast where I'm talking to Jeff Coyle the Co-founder of MarketMuse. We're talking about Content Marketing and Artificial Intelligence… can a computer do it all? Are we fired!
Episode 94
How can Artificial Intelligence help our content marketing efforts?
That's what we're talking about in this episode. We know Ai is good at analysis but how good is it and can it write content for us?
All these questions and more answered by Jeff Coyle the Co-founder of MarketMuse which is an online tool that helps content marketers, search engine marketers, agencies build authority and improve their ROI using AI Content Intelligence. Check out their website and find Jeff on LinkedIn.
Can I quickly mention is that NAMP is totally ad free and I'd love it if you could give the pod a quick shout on social media and subscribe via your podcast app.