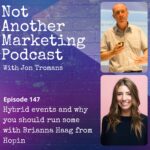 Welcome to Not Another Marketing Podcast where I'm talking to Brianna Haag, Head of Demand Generation at Hopin. We're talking about hybrid events, what they are and why you should be running some!
Episode 147
Virtual events are still happening even though we're heading back to in-real-life events and the big trend seems to be a hybrid mish-mash which gives us the best of both worlds.
In this episode I'm talking to Brianna Haag, formerly of Eventbrite and the 3rd Marketing hire at Hopin.
Brianna is head of Demand Generation so we talk about what hybrid events are, best practice for running them, how they can be more accessible and open up the world to your event.
You can fine Brianna on LinkedIn and Hopin on their website, LinkedIn, Facebook, Twitter & Instagram.
Also make sure to check out the Hopin Guide to Best-In-Class Hybrid Events which is a must read.