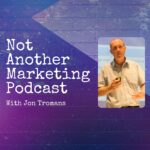 Welcome to Not Another Marketing Podcast where I'm talking to Colton Briner, founder of Scrappy AF Solutions who specialise in creating high-impact messaging and market-disrupting strategies. In this episode we're discovering tips on how to be more creative.
Episode 116
Modern digital marketing means we are feeding algorithms with content all day long in exchange for attention, clicks and hopefully some sales and leads. It can feel like never ending process and our creative juices can stop flowing very quickly when starring at 1000's of templates from Canva or Mailchimp.
In this episode I'm talking to the very creative Colton Briner who specialises in getting results by doing things a little bit differently. We talk about feeding those algorithms, being more creative and the need to experiment a bit more.
You can find Colton at Scrappy AF Solutions and also on LinkedIn.
Can I quickly mention is that NAMP is totally ad free and I'd love it if you could give the pod a quick shout on social media and subscribe via your podcast app.