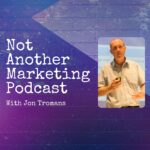 In this episode of Not Another Marketing Podcast we're talking to Charlotte Dougall from Blether Digital about working as a freelancer in COVID times.
Don't forget to check out how you can support the podcast by sharing, subscribing or making a one off donation.
Episode 66
Many freelance marketing folk have been hit badly by the global pandemic with contracts being cancelled, budgets being slashed and all of us having to work from home. Even the influencers have been hit with events cancelled and people focusing on the more important aspects of life.
Charlotte talks about her experiences and shares what she and some of the influencers she works are doing to keep busy, get some work and keep sane!
There's also a bunch of tips on working from home.
You can find Charlotte on Instagram, LinkedIn, Facebook or her website. 
If you've enjoyed this episode of Not Another Marketing Podcast then please subscribe on your favourite podcast player and if you can afford it make a small one off donation to help keep the lights on.