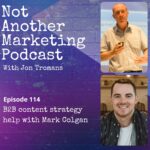 Welcome to Not Another Marketing Podcast where I'm talking to Mark Colgan, the Co-founder of Speak On Podcasts and a mentor of B2B Startups via GrowthMentor and ScaleWise. We're talking about B2B content marketing strategies & where to start.
Episode 114
Business to Business content marketing is a different beast to business to consumer content marketing, the sales process can be a lot longer, more involved with more authority and knowledge building content needed. At the same time we can't ignore that we are still marketing to people.
In this episode I'm talking to entrepreneur and B2B startup mentor Mark Colgan who shares some of his 13 years of experience in B2B Sales & Marketing. We're talking about how to start building your content strategies and there's lots of advice on authority & trust building.
You can find Mark at markcolgan.co.uk and on LinkedIn.
Can I quickly mention is that NAMP is totally ad free and I'd love it if you could give the pod a quick shout on social media and subscribe via your podcast app.