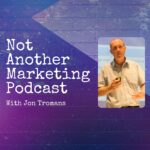 Welcome to Not Another Marketing Podcast where I'm talking to Ryo Chiba, co-founder of Topic which is a tool that uses Ai to help us identify content marketing opportunities. Listen up if you want to know how Ai is helping us write content.
Episode 90
Artificial Intelligence and machine learning has come on leaps and bounds over the last few years and it's now being applied to help us with our content marketing and optimisation.
Ryo has built a tool that will help us identify content niches, provide us with outlines and generally help the content marketing process be less hit and and miss and more targeted.
You can check out Topic at usetopic .com and connect with Ryo on LinkedIn.
Can I quickly mention is that NAMP is totally ad free and I'd love it if you could give the pod a quick shout on social media and subscribe via your podcast app.