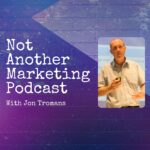 Welcome to Not Another Marketing Podcast where I'm talking to artist, branding expert and marketing strategy consultant Susan Meier about creativity in digital marketing. Are we losing some of our creative juices.
Episode 78
If you're feeling a bit stuck on the creative side of things then this episode is for you. Susan Meier is a sculpture artist and marketing expert and has worked with some of the biggest global brands including Samsung, Unilever and Gilead.
We can sometimes get trapped in data and spreadsheets and its always good to be able to step back and experiment a little. Susan offers us a huge amount of insight about how to be more creative with your marketing efforts so if you're trying to get those creativity juices going then check out this episode.
You can find Susan on her website, LinkedIn, Instagram and Twitter .
Can I mention is that Not Another Marketing Podcast is totally ad free and I'd love it if you could give the pod a quick shout on social media and subscribe via your podcast app.