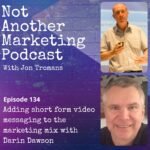 Welcome to Not Another Marketing Podcast where I'm talking to Emily Heck, the founder of Evergreen Strategic Communications a marketing agency who specialise in nonprofits so we're talking about how to market a charity or non-profit organisation.
Episode 134
Emails, slack social media posts are mainly text and images and we can sometimes feel disconnected from our customers and the people we work with so how can we add a little bit of a personal touch to our marketing.
In this episode I'm talking to Darin Dawson co founder and president of BombBomb a Human-Centered Communication Platform that enables you to send simple, personal video messages.
We talk about the growth of short form video, how it can help us generate more leads and sales and how we can look and sound our best on video.
You can find Darin on the BombBomb website and LinkedIn, Facebook and Twitter.