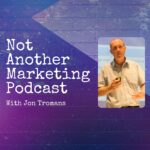 In this episode of Not Another Marketing Podcast I'm talking to John Vuong, Founder of Local SEO Search which is based in Canada and we're talking about Google My Business.
Episode 81
If you want to know more about Google My Business then you've come to the right place.
Sometimes it seems that Google almost tries to confuse us with the tools and services it offers, and I hear from a lot of folk who get started with Google My Business and then give up. Treat this podcast a bit of a beginner's guide.
John shares a huge amount of knowledge talking about the importance of reviews and how often we should post updates.
You can find John on LinkedIn and check out the website at localseosearch.ca. Make sure you hop along and say hello.
Also make sure you check out the new YouTube channel called Not Another Marketing Channel(!)… see what I did there! Lots of marketing software reviews and more.