Online SEO Training Course. 1-2-1 Sessions.
Learn Search Engine Optimisation Online With A Tutor.
2 x 2-3 Hour Remote Online Sessions
Session Video Recording Included
Support & Follow Up Sessions If Needed
4 hours of fully supported 1-2-1 Search Engine Optimisation Training.
Learn how to take your Internet Marketing to the next level, improve rankings and create better content (SEO Copywriting) with my online Search Engine Optimisation (SEO) Training that's split into two 2 hour sessions so its easy to fit into a busy week.
All the training is personally provided 1-2-1 via your web browser.
Who is the training for?
Anyone who edits or creates content for a website. Marketing executives, web editors, content creators and business owners can all benefit from some SEO Training.
You get exactly the same training as the in-house version and you also get access to all the resources, the only difference is that its online.
Course Overview
Understanding Search Engines & What is SEO
Discover how the search engines find your website and what content they store. We'll also look at what Search Engine Optimisation really means.
Search Engine Optimisation Techniques
It's all about Titles & Tags. We'll learn the basics of SEO and discover what tags are important and what content to put in them.
Keyword and phrase research
Learn what keywords and phrases really are, how to research them and how to slot them into your content.
Learn how to write fantastic search friendly content for your website
Creating great user and search friendly content is essential for SEO so we'll take a long look at web & mobile copywriting.
Links and link building
This is probably one of the most contentious topics of SEO. We'll debunk a lot of myths and work out they best ways to generate links to your website.
Local SEO
Learn how to optimise your website for specific locations.
Advanced SEO Techniques
No coding… but I'll make you aware of a few advanced technical techniques so you can mention them to your web development team.
Protecting Against Penalties
We'll talk Penguins and Pandas. Learn about what Google penalties are and how to avoid them.
Measuring and tracking your visitors using Google Analytics
Learn how to see if your SEO efforts are working. Are you generating new sales and leads?
Using Google's Search Console
We'll look at the important aspects of Google Search Console and find out what Google thinks of your website.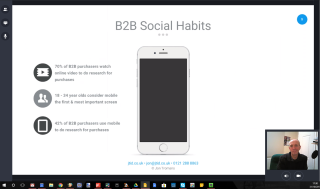 Price £175
Includes:
2 x 2 Hour Sessions
SEO Guide
Email Support
Follow Up Sessions
Video Of The Session
Jon provided an excellent course on web marketing & search engine optimisation. Everything I needed to know was covered in depth with great knowledge & experience. The results on our site usedpackagingmachinery.co.uk are astonishing & therefore has my recommendations.
Dean Jones from RM Group
Training & Workshops Provided For