Online Email Marketing & Mailchimp Training. 1-2-1 Sessions.
Learn Mailchimp & Improve Your Marketing Skills Online With A Tutor.
2 x 2-3 Hour Remote Online Sessions
Session Video Recording Included
Support & Follow Up Sessions If Needed
4 hours of fully supported Email Marketing & Mailchimp Training.
Learn how to improve open rates, increase clicks and deliver professional email campaigns using Mailchimp. This online training is split into two 2 hour sessions so its easy to fit into a busy week.
All the training is personally provided 1-2-1 via your web browser.
Who is the training for?
Anyone who runs the email marketing campaigns for their business. This is ideal training for marketeers and business owners.
You get exactly the same training as the in-house version and you also get access to all the resources, the only difference is that its online.
Course Overview
Does email marketing still work & why should I use Mailchimp?
We'll find out if email marketing really does work in the world of social media and instant messaging. We'll also look at why Mailchimp is the ideal Email Service Provider for your business.
Planning things out
We'll start in the planning stage, look at the types of goals you want to aim for and work out a strategy that will speed up email campaign creation.
List building
Rubbish lists bring rubbish results. Learn how to get the right people onto your list. We'll look at techniques that can help increase sign up rates.
Managing your list with Mailchimp
An in-depth look at how to look after your list using Mailchimps list management tools. Learn how to include custom data in Mailchimp so you can improve campaign targetting.
Customising Mailchimps sign up forms and notifications
We'll go through all the forms and notification emails and customise them for your business.
Segmenting your list
Learn about segmentation and how to target the right people at the right time. We'll discover how to use Mailchimp to create segments that you can use again and again.
Email campaign copywriting
An in depth look at how to write better emails. We'll look at subject lines, first lines, from addresses and the important body of the email. Learn how to increase open rates and drive more clicks.
Creating Mailchimp templates
Learn how to create professional templates that you can use again and again.
Creating and sending Campaigns using Mailchimp. Includes A/B testing.
Best practice advice on how to create and send campaigns using Mailchimp. We'll also look at what A/B testing is and how you can run split campaigns.
Measuring & tracking results
We'll build some Google Analytics tracking URLs so you can measure the success of your email campaigns.
Mailchimp reporting
A look at the most important Mailchimp reports and how to spot issues with your list.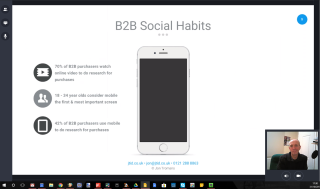 Price £175
Includes:
2 x 2 Hour Sessions
Slides & Downloads
Email Support
Follow Up Sessions
Video Of The Session
Thanks @JonTromans for an amazing 1-2-1 training session. My brain hurts! But l have learned new stuff that will benefit ALL my clients! X

— Zoe Day (@TSMCoMPANY) November 10, 2016
Training & Workshops Provided For