Digital Marketers live inside their web browser. We use it for almost every task so why should we be stuck with minimal software that doesn't fit our workflow.
The most used piece of software on your computer is probably your web browser. We use it for everything, but have you noticed how most web browsers are minimal frames that are just designed to hold web pages. They have no real features themselves.
Meet Vivaldi Web Browser. Built by the folks behind the old Opera browser Vivaldi offers lots of functionality to help you with your workflow and productivity.
Vivaldi is based on the Chromium web browser project the same as Google Chrome and Microsoft Edge so Google Chrome extensions will work fine on Vivaldi and web pages will display pretty much the same.
I've been using Vivaldi for over a year and here are the main reasons why I think it's a great browser for marketing folk.
Speed Dials
This is the one feature I use the most. It's basically a bunch of visual bookmarks that you can arrange how you want so that you can access the websites you want quickly.
For example, I have a folder of bookmarks for all my admin software. Things like invoicing, CRM, social media management and email marketing.
You can also add multiple pages of speed dials, so I have a page for clients where each client has its own folder full of links to websites, social media pages, Dropbox folders and more. If I need access to a client's files I can get there quickly.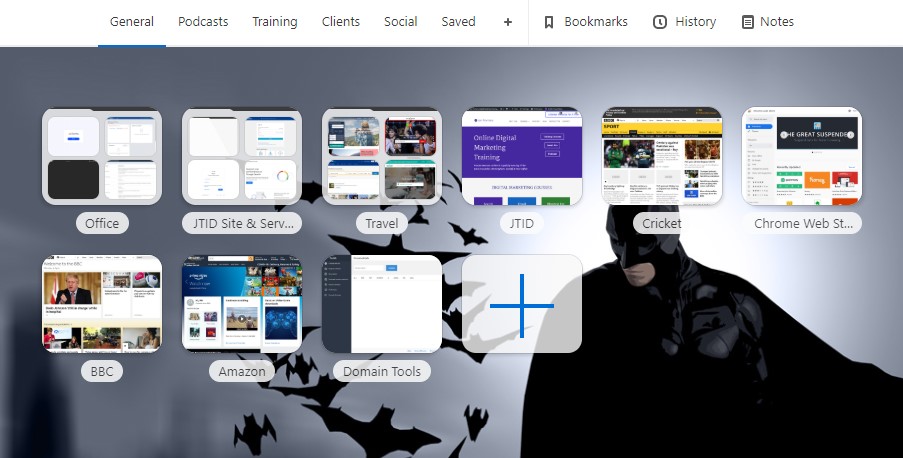 History
How many times have you forgotten which website you found three days ago that contains that little bit of information you need right now?
I've been there.
Vivaldi has a very visual and extensive history feature where you can call up a monthly calendar and see all the web pages you've visited for each day.
You can also search your history quickly.
I've found the visual aspect of this feature extremely useful. I can see the history a lot better on a calendar than just on a list.
If you perform a lot of research for work, then this feature is brilliant.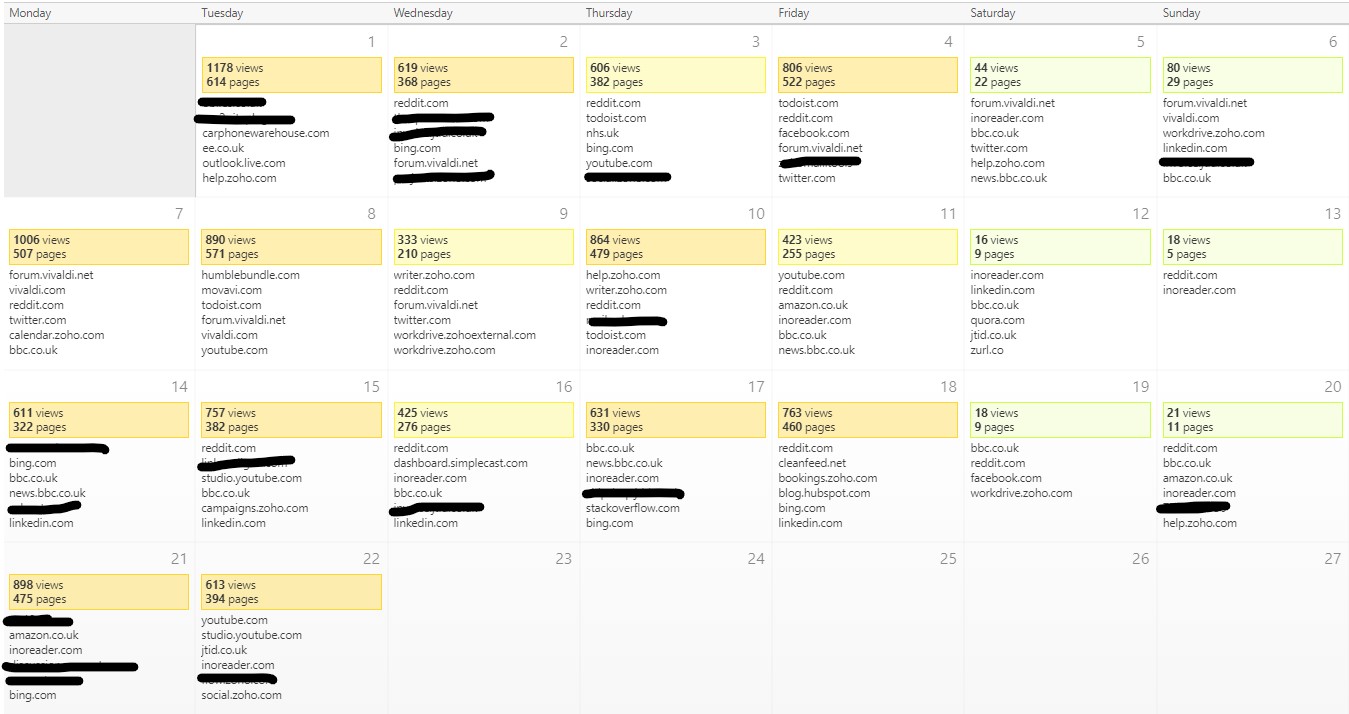 Side Panel
This is where things get a little interesting.
You can attach websites to a side panel that slides out whenever you need it. I keep my to do list, WhatsApp messenger and Instagram in the panel so I can reply to messages quickly.
The side panel tends to show the mobile version of a website so it's easy to navigate and not all scrunched up.
This feature makes the browser much more useful and makes me more productive.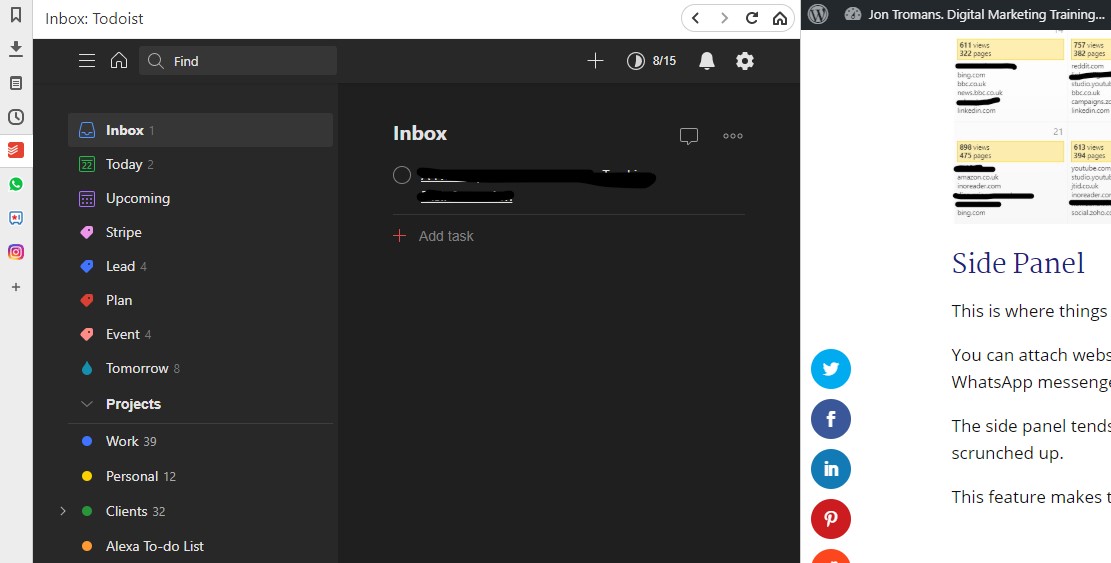 Tab Stacks
Another little feature to boost productivity is Tab Stacks where you can create a stack of tabs that look like one tab.
It saves a lot of space on the top bar but also gives you the chance to bunch websites by category.
I have a tab stack open all the time that contains my CRM, social media management software, calendar, invoicing app and more.

Notes
One of the features I use the most is Notes. You can create simple text notes that sync between your different devices if you enable Vivaldi Sync.
You can create folders to keep yourself organised, search for notes, add bullet points, headers and format notes in a simple way.
One useful feature is being able to highlight some text on a web page, right click and then add the text as a note for safe keeping.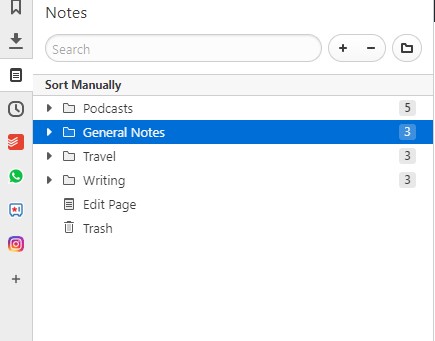 Tiled Pages
Have you ever found yourself needing to view two web pages side by side, maybe for research purposes? You can do this with Vivaldi in a really easy way.
Just select more than one tab and click the tiled pages icon and bingo, the display changes. Check the video at the top of the page to find out how to do it.

Ad Blocker
Most marketing folk spend a lot of time places ads for themselves and their clients, so it seems a bit odd wanting to block adverts.
But there are times where the lack of ads can really help you concentrate, especially when the blocker gets rid of those irritating video ads!
You can set the ad blocker in Vivaldi to work for the websites you want. I have a certain bunch of sites that I allow ads on, and others where I just love to block them.
The great thing is having the choice to block or not.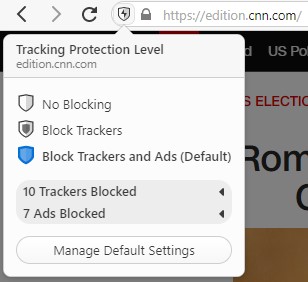 Themes
Vivaldi is a browser that comes with a LOT of settings and a fair few of them are to do with making the browser look exactly how you want.
You can edit the existing choice of themes to create your own, you can even decide on how curved the tabs are! There's a lot of settings!
One of the more thoughtful features is being able to set the times the browser switches from light mode to dark mode. This is great if you tend to work into the evenings as the browser will change to dark mode as the sun goes down.

Conclusion
Vivaldi is a browser that you can fuss with and make your own. This means you can build it into your own workflow instead of having to fit yourself into a browser.
Its not a browser that you can just launch and is everything to everyone, you need to look through the extensive settings and make things work exactly how you want.