In House Advanced SEO Training in Birmingham, London, Manchester, Cardiff & UK Wide
Designed for marketeers, web designers & developers. Learn techniques that take your website to the next level.
Request A Quote
Sessions Last Around 4 - 5 Hours
Includes slides & downloads
1-2-1 & Group Tutor Led Training
Support & Online Follow Up Sessions If Needed
If you're looking for intermediate SEO training then look here
Designed for marketeers, web designers and developers.
This one day training session is designed for anyone who already knows the basics of Search Engine Optimisation but want to take things to the next level and learn more advanced techniques.
We'll cover topics like Searcher Intent, Structured Data, HTTPS, Canonicalisation, Advanced Content Creation, improving Page Speed and a lot more.
I also provide ongoing email support, and you will receive a certificate of attendance (on request) to add to your personal development folder.
The session lasts around 4 – 5 hours and can be delivered one-to-one or to large groups anywhere in the UK. The training itself is informal and I'll use examples that relate to your industry where possible.
You'll Learn The Following During My Advanced SEO Training Day
Advanced content creation
Learn a few advanced techniques to make your content go further. We'll talk about different types of content that work best in the search engines. There's also an interesting section on searcher intent & targeting your content.
Structured data
Discover how to explain your website to Google so it understands more of your content. We'll look at various ways to mark up your content and get rich snippets in the search listings.
Advanced keyword / phrase research
We'll look at a number of different ways to discover new keywords and phrases including monitoring them in Google Search Console.
HTTPS
Understanding why HTTPS is important and how to make sure the move from HTTP works well. This section also looks at the changes you'll need to make within Google Search Console and Analytics.
301 Redirects
An in-depth look at how to use then and more importantly when to use them.
404 strategy
What do you do with all those old pages that don't mean anything anymore. We'll talk about putting a 404 Not Found strategy in place and look at ways to make your 404 pages user friendly.
Canonicalisation (the canonical URL)
A good look at the importance of the canonical URL especially in ecommerce websites. Learn how to create then and when to use them.
HREFLANG
Learn how to deal with multi language websites and let the search engines know which page is for which country.
Dealing with multiple pages (pagination)
There are a few things we can do to help Google understand pagination on your website. We'll look at how to implement the markup.
Improving page speed & AMP Pages
Lots of tips, advice and best practice on how to improve the speed of your pages especially on mobile. There's also a section on implementing Advanced Mobile Pages (AMP).
Mobile optimisation
Its not just about being responsive. We'll look at many ways to make your website mobile friendly including working with media queries.
Advanced link building & what to do when it goes wrong
Learn about competitor link analysis, getting mentions and citations and working with No Follow tags. There's also a section on dealing with Penguin penalties and creating a Disavow file.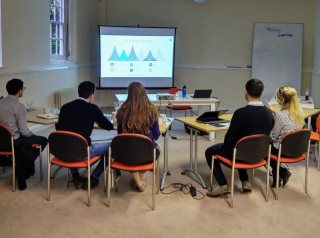 Jon's Advanced SEO Training provided us with the perfect next-step for our digital marketing. The tailored, clear and detailed course focused on what we needed most, and has equipped our business with the tools to improve our online visibility.
After receiving three days of training by Jon on understanding google search console, google analytics and how to create relevant content for our website we are now confident as a team to take things in our own hands and handle our own SEO in house.
We found all information provided by Jon easy to digest (as you can understand how technical things can be in regards to SEO) – Would highly recommend the training courses Jon offers to everyone that wants to have a clear understanding of SEO.
Training & Workshops Provided For