I spent yesterday at a marketing event for churches in the Shropshire area. The day was organised to help inspire people to promote their events in more interesting and exiting ways. The experts were knowledgeable and my talk on Social Media was lively and went down well and as with other social media talks I've done I try to start off by asking the group what their fears of social media are and the top issues from yesterday were:
Privacy
Its not worth it
Time Sink
Lets deal with them from a church or charities perspective.
Privacy

As an individual its a worry and we could write thousands of words on it but privacy for a public organisation is not a worry. If your church has a Facebook or Twitter page then you want it to be seen by as many people as possible so privacy should not be a concern.
A church or charity organisation is a public entity that needs to be seen and heard so the issues of people viewing photographs, phone numbers, GPS locations are not a problem as you want people to have this information about your establishment.
Privacy regarding what you or others post to your social media pages is not really a privacy issue, its a management problem and training is always needed to help updaters to understand what they can and cannot post. Drawing up a simple social media policy is always a good idea.
Its Not Worth It
This is a concern that I hear a lot and its absolutely wrong! The chances are if you think social media is not worth it you are doing it wrong in the first place and the biggest mistake is using Facebook and Twitter just to sell and not to share.
Social media is an extension of an organisations existing community and you need to engage these people to help you share information on events so engaging with them is a great idea.
Share pictures of the church yard, post recipes from the church kitchen and let people know the in's and out's of life in and around the church. Your followers will feel more engaged and interested in you and will be more likely to share details of events to their extended following. More publicity and more interest in your organisation is great!
Time Sink

It can be! More than likely the people updating a church or charity social media account will be volunteers and their time is precious so get three or four people together and give then access to update things. Work out a policy so they all know what they can and cannot post and let them rip!
Having more people around to update Facebook & Twitter will save a lot of time for everyone and make the posts more interesting as they come from different perspectives.
There's a lot more to it than just the three points above so get in touch if you'd like to talk more about social media.
Attack Of The Spiders
Whilst I was sat waiting to do my turn I was attacked by a spider. It wasn't a big one but big enough and it somehow landed on my arm and started crawling up to my shoulder. Trying not to jump up screaming like a 5 year old girl I gently flicked it to the ground and carried on watching the presentations.
A few minutes later I felt a crawling up my leg. Investigating further I found the same spider crawling around inside my trouser leg so he got another flick on the floor, minutes later exactly the same happened again!
This time he got a more serious flick and landed in the corner. But then the most enormous spider I have seen for a while crawled from under the skirting board and attacked the small spider, dragging it kicking back under the boards!
I actually felt guilty for supplying this little spider as dinner but I kept a very careful eye on the corner in case the big one came out again looking for more lunch!
Hopefully nobody noticed me scratching around at the front of the room.
I have to mention the venue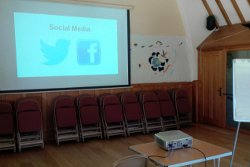 The training took place within an amazing building called The Trinity Centre adjacent to Trinity Church and the facilities were top notch and the staff warm and welcoming.
I've been in a lot of training rooms and conference centres and nothing compares to this fantastic building and I would thoroughly recommend any businesses around Shropshire to use the rooms for meetings and conferences. You'll also be doing some good at the same time.
Have a look at the video and a picture I took below to see more about the project in general and I hope to do more work there in the future.
Get in touch if you'd like to talk about social media training.