As you may know we've recently launched our Beginners SEO training as 4 one hour online sessions which has helped us to reduce the costs to you. I thought I'd spend a few moments explaining exactly how it works and what you'll need to take part.
A bit of history
For a couple of years now I've been wanting to offer online training sessions but have never really found software to do this that's reliable and cost effective. I've experimented with a number of different companies products and the main problem has been ease of use and connection reliability.
Recently I set up a Google+ account and found out about the Hangouts feature and after trying it out a few times it seems to fit the bill perfectly.
What is Google Hangouts?
The simple answer is video conferencing with screen sharing.  You can see me, I can see you if you have a web cam, if you don't we can talk over the Internet, Skype or the phone! You'll also be able to see my documents, and presentations and we can also create notes and sketches to help explain points better. The main advantage of the hangouts is that  you only need a Google account to use it which most website owners will have.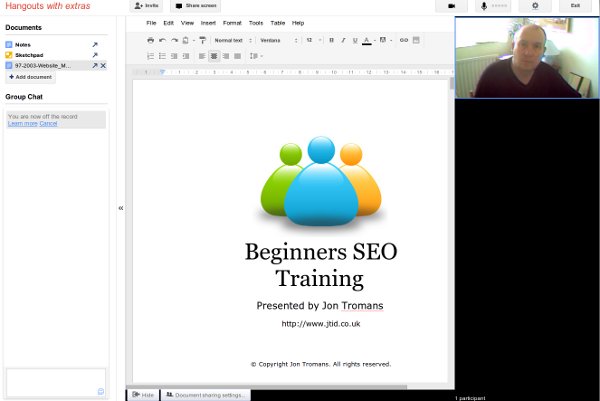 The screen shot above is pretty much what you will see during the training. On the far left is a list of documents that we can view together, a chat window for making notes and sending over links and ideas. In the centre is the main document window where the training will take place and to the right is a video screen of who's at the training. Its usually 1 2 1 but up to 9 people can be present at the training so its great for small groups.
Why four one hour sessions?
The online training as been created to not only be cost effective but also time effective! A lot of small business owners cannot spare a whole day to take part in 1 2 1 training so by having four one hour sessions we can split the training into easy bites that can even but scheduled during the evening or weekend.
Get in touch if you're interested in find out more information and also read more on our SEO training page.