SEO & Social Media Speaker & Coach
Available for talks and workshops in Birmingham, Manchester & London
Do you need a Digital Marketing speaker for your event ?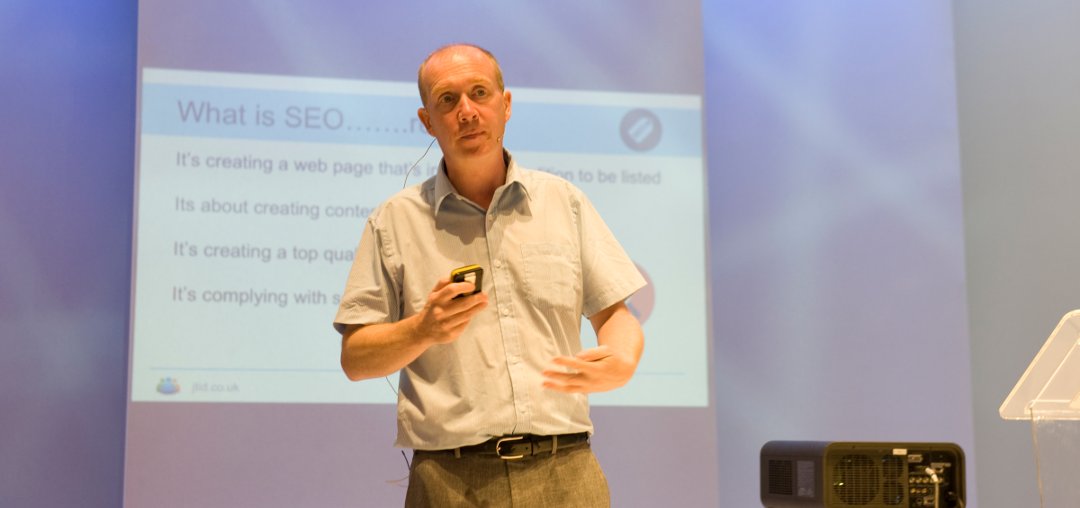 As a former broadcaster I have experience speaking and presenting in front of small and large groups at business meetings, conferences, workshops or on large stages. I've presented in front of 28,000 people so size of event is not an issue!
The talks are based on my 18 years experience in the web & digital marketing industry and can last anywhere from 15 minutes to a couple of hours.
My style of presentation is energetic, motivating, straight talking and I try to interact with audiences as much as possible. Its NOT death by Powerpoint!
I'm also run Digital Marketing training workshops at trade shows or business events and these offer straightforward and practical advice that attendees can take away and use to improve their business.
Check out a few of the ideas below for your business event and get in touch if you have questions.
Workshop Ideas
Modern SEO 101
Get a good solid grounding in search engine & user optimisation.
E-Commerce product writing training
Learn how to create exciting and converting product descriptions for online stores.
Blogging For Your Business
Learn how to increase web traffic and sales by Blogging for your business.
Email Marketing In a World Of Social
Learn how to take your mailing list to the next level, increase open rates & clicks.
Offering Customer Support on Social Media
A look at how to offer great support using Twitter & Facebook. Learn how to put a strategy in place so you keep on top of things & don't miss questions.
Popular Talks
Think Customer First!
A Look at various aspects of digital marketing with the focus on the customer.
SEO For Anyone
A talk about how any business can make their website search, user & mobile friendly.
Forget Social Media! Email Marketing Gets Better Results
Improving open rates & clicks. Make your mailing list work for your business.
E-commerce for the 21st Century 
How to generate more sales and better conversions for your online store. Covering mobile & omni channel sales.
Locations
I speak and train throughout Birmingham & the West Midlands but I also visit London, Manchester and other areas of the UK on a regular basis. Get in touch and let me know where you are. I've provided training and talks recently in Sheffield, Shrewsbury, London, Manchester and Birmingham.
If you'd like to hire a Digital Marketing Speaker then please get in touch, ask questions and hopefully we can work together to create a great talk for your event.
Don't Be Shy. Get In Touch.
If you have any questions, call me, Skype me or email me and I will get back to you as soon as I can!