Online Customer Management Database Software
Simple, straightforward customer management software that's always available from any PC and is very affordable!
This is a slimmed down version of the CRM software that I install and offers all the functions you need to manage your customers. It's designed for companies that don't need a full blown CRM system but still want to manage their customers in an efficient way.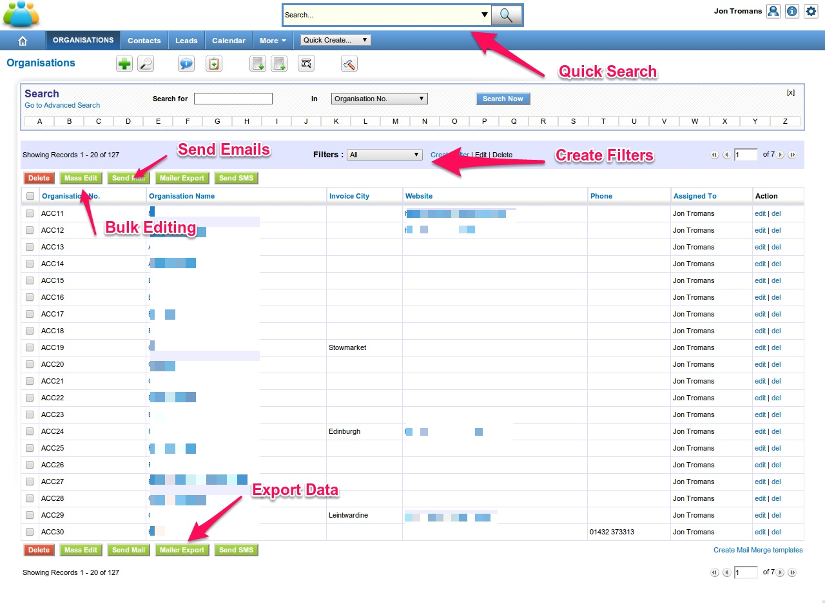 You get the following sections:
Organisations

Contacts
Leads
Calendar
Email (optional)
Search
Comments
Organisations
This section keep stores all the data on the companies you do business with. I can customise it with extra drop down menus, tick boxes or text fields so that you can store that data that you need. You're not just limited to name and address.
Easily categorise your customers how you want and create filters to organise then into different displays. You can export all or just some of your customer data to spreadsheets whenever you want.
Contacts
These are the people you deal with inside the organisations or individuals. You can process this data the same as with Organisations creating filters and exporting data whenever you want and I can create as many custom data fields as you like to store data that's important to you.
Leads
This section is designed to look after your prospective customers. Store all the information you need on your leads and quickly add data from trade shows and events. As an extra option I can also connect your website to the leads section so that data can be captured directly from a web form. This section is full of features like creating categories for your leads, filtering data and quickly converting a lead into a full blown customer.
Calendar
Each user of the system can have their own calendar to help remind them of jobs that need to be done and appointments that can't be missed.
Email (optional)
I can easily connect the database up to your existing email system so that you can email directly from the database. This feature also comes with email templates so you don't have to write the same things time and time again. For this function to work I need your SMTP email login information.
Search
The powerful search system will look through all the sections of the database looking for matches so its really easy to find what you want quickly. Search for organisations, contacts, phone numbers, email addresses or any other data that you have stored.
Comments
The powerful comments section lets you leave notes on Organisations, Contacts and Leads so that everyone within your company knows what has been said and when. This really helps to speed up the workflow and if a member of staff is away you know exactly what has been said.
Customisation
I can easily add new data fields to all the forms on the database so that we store the information that you want to store. Some of the fields that are already there you may not need so we can remove those. Let me know what you want and I'll work out a quote!
Cost & Hosting
This application is a stripped down version of the CRM system that I have installed for many customers over the last few years. The cost to buy the application and have basic logo/company info customisation is just £99 set up and £99 for 12 months hosting.
The hosting also includes daily off-site backups and email support.
The total initial price is £198 and then £99 per year afterwards.
I can also install this on your own web hosting as long as it meets a few requirements but choosing this option means you would have to look after your own backups and I could only offer support for the database and not the hosting.
Don't Be Shy. Get In Touch.
If you have any questions, call me, Skype me or email me and I will get back to you as soon as I can!