Online Advanced SEO Training. 1-2-1 Sessions
Learn Advanced Search Engine Optimisation Techniques Online With A Tutor.
2 x 2-3 Hour Remote Online Sessions
Session Video Recording Included
Support & Follow Up Sessions If Needed
4 hours of fully supported 1-2-1 Advanced SEO Training.
If you already know the basics of SEO but want to understand the more technical aspects then my online Advanced Search Engine Optimisation (SEO) Training is for you. It's split into two 2 hour sessions so its easy to fit into a busy week.
All the training is personally provided 1-2-1 via your web browser.
Who is the training for?
This training session is designed for marketeers, web designers and developers and anyone who already has an basic understanding of SEO.
You get exactly the same training as the in-house version and you also get access to all the resources, the only difference is that its online.
Course Overview
Advanced content creation
We'll go through some advanced content creation ideas including Evergreen and multi-format content. We'll also look at landing pages and content topics.
Structured data
Marking up your web content using structured data is essential for helping Google understand what your pages are about. We'll look at how to do this using code and Google's Data Highlighter.
Advanced keyword research
Learn how to explain your content to the search engines using the phrases your customers use. I'll also introduce you to Latent Semantic Keywords.
HTTPS
The Google Chrome web browser is now marking non-https pages as 'Not Secure' so we'll look at putting a strategy in place to help you make the move and watch for issues.
301 redirects
An in depth look at when to use these redirects and how to watch for problems.
404 strategy
Instead of sending your visitors to a boring 404 page we look at ways to pass this traffic onto other pages in your website.
The canonical URL
This is an important tag especially if you run an ecommerce website or sort content on pages. It also has other uses so we'll look at various ways to implement it.
HREFLANG
Learn how to manage a multi language website in regard to SEO. We'll go through how to use this tag and what issues you need to look out for.
Multiple pages and paging
If your website contains large category sections or search results I'll show you how to mark up your content so Google understands which pages its on.
Improving page speed and AMP pages
Page speed is a very important ranking signal so we'll look at ways to speed things up and I'll introduce you to Accelerated Mobile Pages (AMP).
Mobile optimisation
It's not just about being responsive. An in depth look at how to make your website very mobile friendly.
Advanced link building techniques
Links still help a lot so we'll look at some advanced ways to build links the natural way . There's a section on competitor link analysis and dealing with the Google Disavow file.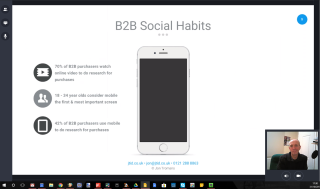 Price £175
Includes:
2 x 2 Hour Sessions
Slides & Downloads
Email Support
Follow Up Sessions
Video Of The Session
Jon's Advanced SEO Training provided us with the perfect next-step for our digital marketing. The tailored, clear and detailed course focused on what we needed most, and has equipped our business with the tools to improve our online visibility.
Roald Myers
Training & Workshops Provided For