Google Search Console Training in Birmingham, London, Manchester, Cardiff & UK Wide.
Learn how to use the search console to improve your website & spot problems.
Request A Quote
Sessions Last 3 - 4 Hours
Includes slides & downloads
Includes 30+ Video Tutorials
Support & Follow Up Sessions If Needed
Learn To Use Google Search Console (Webmaster Tools).
The Google Search Console (formally Webmaster Tools) offers a huge amount of information about your website that can be used to improve user experience and rankings. Discover how Google see's your website and find out how to spot problems and issues that could harm your rankings.
You'll also receive 30+ short video tutorials that you can refer to after the session.
This one day in depth training course is available in house at your office or online to English speaking countries.
Who is the training for?
Anyone who manages a website. Marketing executives, web designers or developers and business owners can all benefit from this Training.
Course Overview
Why bother with Google Search Console?
Learn why keeping an eye on Google Search Console is important to the smooth running of your website. Discover how Google uses it to communicate issues and problems.
Setting Things Up
Learn how to setup your website with Google Search Console. If you don't already have things set up we can run this section online a couple of weeks before the main training takes place. It's nice to use your own data during the session so reports are in the right context. If you already have things set up, great. If we can't use your account for the training, we'll use mine.
The Dashboard & Message Section
Discover how Google communicates issues with you and understand all aspects of the main dashboard.
Search Appearance, Structured Data & HTML Improvements
An in depth look at the Search Appearance section of Google Search Console. Understand how to monitor and spot issues with your Structured Data, Title & Description Tags.
Using The Data Highlighter
Discover how to mark up your own web pages so that Google understands your content. Learn how to mark up Events, Articles, Products and more.
Search Analytics
Learn about the key phrases people use to find your website. Understand how often you have appeared in the search results and discover how to use this data to improve your Title and Description tags. This in depth section also goes through the most useful filters so you can understand more about your web visitors.
Internal & External Links
Understand how to use the Internal and External Link reports and what the data really means. Learn how to identify problems and solve linking issues.
Mobile Usability
Discover how to spot issues with the mobile version of your website. We'll go through some of the common problems and learn ways to avoid them.
International Targeting
If you run a multi language website this section will help you spot any issues that Google has understanding the content. We'll also look at how to associate your .com or .org with a particular country.
The Google Index & Your Website
Discover how Google crawls and see's your website. I'll go through common issues and teach you how to remove URLs.
Google Crawl Reports
We'll look at all the reports that show you how Google crawls your website. Learn how to identify problems with how Google accesses your website. Learn how to use the Fetch & Render section and submit pages to Google for Indexing.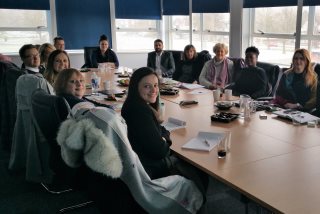 Jon provided an excellent course on web marketing & search engine optimisation. Everything I needed to know was covered in depth with great knowledge & experience. The results on our site usedpackagingmachinery.co.uk are astonishing & therefore has my recommendations.
Training & Workshops Provided For